wander the world with us
London
Whether you're watching a show at the West End, hitting the shops on Oxford Street or wandering the food stalls at the borough market, London has something for all and is most definitely on our MUST-visit list. So join us on the journey and wander London with us.
MUST-VISIT
The West End - Famous for its lively streets full of shops, eateries, bars and theatres. Book into one of the amazing shows or shop until you drop on Oxford Street.
The City of London - The City is actually only about a square mile in size, and is home to London's biggest skyscrapers and financial district.
Covent Garden - Covent Garden is one of the most popular areas of the city with some of the best theaters. Full of quaint restaurants and bars which overlook the square and market, this is the perfect spot for people-watching.
SoHo - A bustling part of the city full of amazing pubs, jazz and blues bars, and the heart of London's LGBT scene. This is a hot spot for the cool younger crowd.
Kensington + Chelsea - This borough is home to some of London's most posh boutiques and residents. It's also home to Notting Hill which has become an up-and-coming, trendy neighborhood.
Camden - Famous for its docks and punks tread, the Camden streets are full of graffiti art and buskers. It is home to a lively mix of music venues, markets, eateries, tattoo parlors and boutiques. Famous street artist Banksy also has a feature in the docks tunnels.

Westminster - The tourist center of London, sights include the Houses of Parliament, Buckingham Palace and Westminster Abbey. Visitors can see the British Government in action by visiting the Strangers' Gallery at the House of Commons.
Shoreditch - Known as the creative hub of London's trendy East End. Come here for great food, nightlife, street art, and vintage shopping.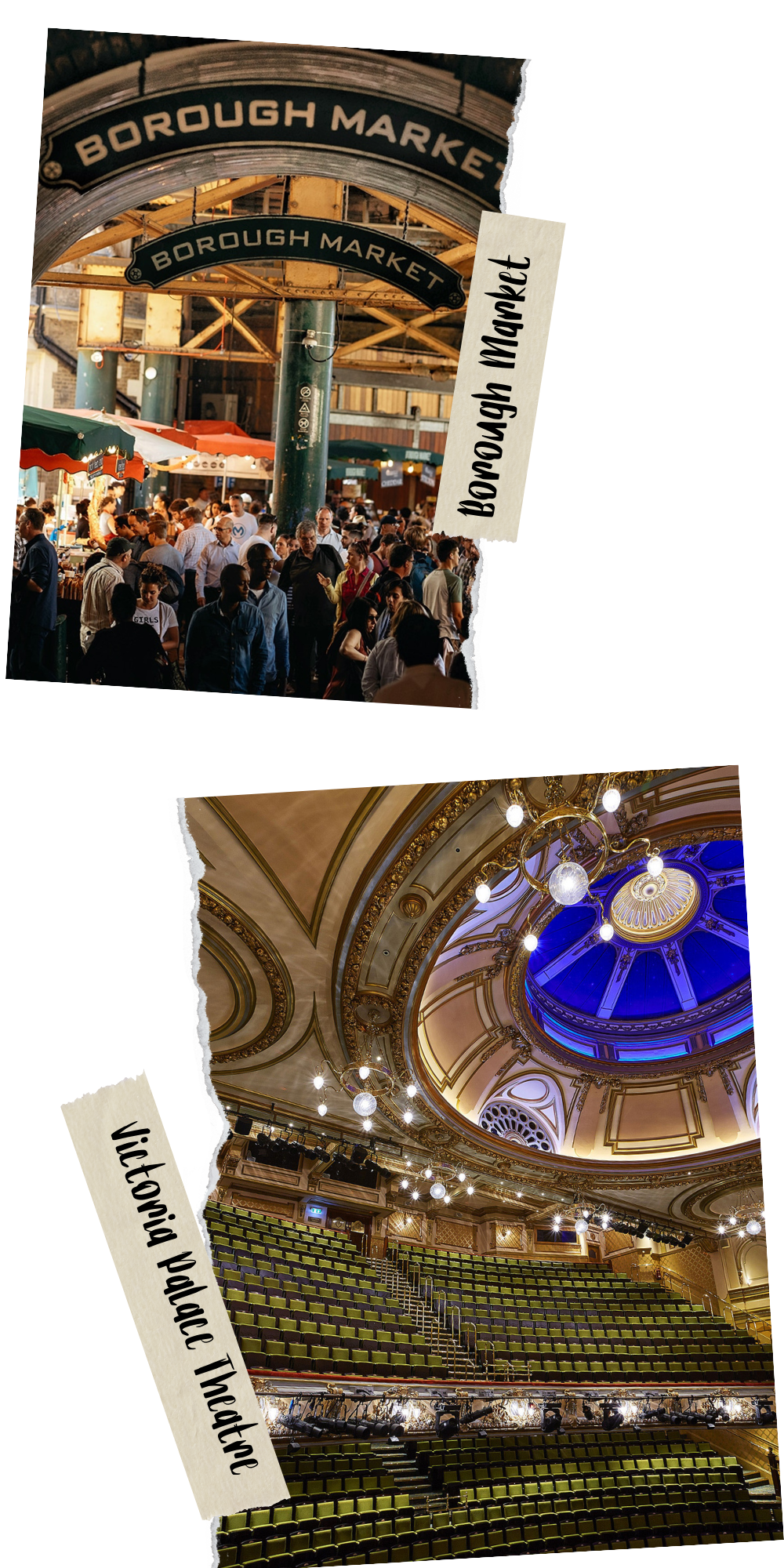 MUST-EXPERIENCE
Afternoon Tea – a very British tradition that started in the 19th century that practically speaking filled the lull between lunch and dinner…but now presents a lovely ritual of indulgence and conversation. The afternoon tea usually includes a combination of freshly-prepared finger sandwiches like cucumber & mint or ham & cheese as well as sweet treats like tarts, scones with clotted cream & jam, and of course a pot of fine English teas
The Underground Tube - The Underground transportation system is called 'the Tube'.  Oldest in the world, the Tube has almost 27 functioning stations with more than 450 escalators.  Simply avoid rush hour!
Red Double-decker Bus – a widely-recognized symbol of England, is a convenient way to get around the city of London, with over a thousand bus routes.  Don't miss the unbeatable experience of sitting on the top level!
London Taxi – the famous black cab icon that you MUST experience, even if it's just for a short distance.  Originally referred to as the 'hackney carriage', the London Taxi has been around since the 17th century.
London Markets – not to be missed are the different markets in and around the city of London.  Most famous are the Portobello, Notting Hill,and Camden markets for their unique finds, but you must also check out the Borough Market if you're a foodie or the Old Spitafields Market if you enjoy arts & crafts.
Theater District – Surrounded by Piccadilly Circus, Trafalgar Square, Covent Garden, and Tottenham Court Road, this area in London's West End is a MUST-experience.  Walk around, shop, eat, and catch a show in this lively district. This year's MUST-watch show is Hamiton, the musical tells the story of American Founding Father Alexander Hamilton, shown at the Victoria Palace Theatre.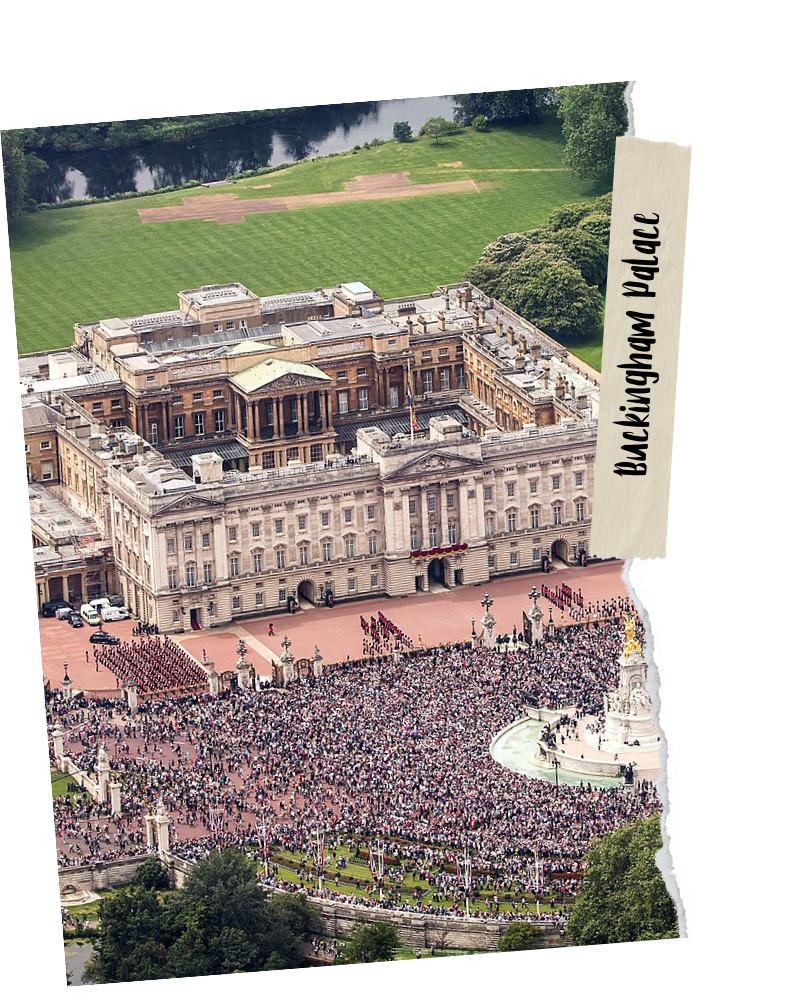 MUST-SEE
The British Library - Located in King's Cross, London. One of the largest libraries in the world and truly beautiful to see.
The British Museum - is located in Greater London. The world's oldest national public museum. Its permanent collection of eight million works is among the largest and most comprehensive in existence. It documents the story of human culture from its beginnings to the present.
Buckingham Palace - The London royal residence and the administrative headquarters of the monarch of the United Kingdom. Located in the City of Westminster, the palace is often at the centre of state occasions and royal hospitality.
Westminster Abbey - Soak up thousands of years of history at this renowned landmark where the late Queen Victoria married her prince Phillip.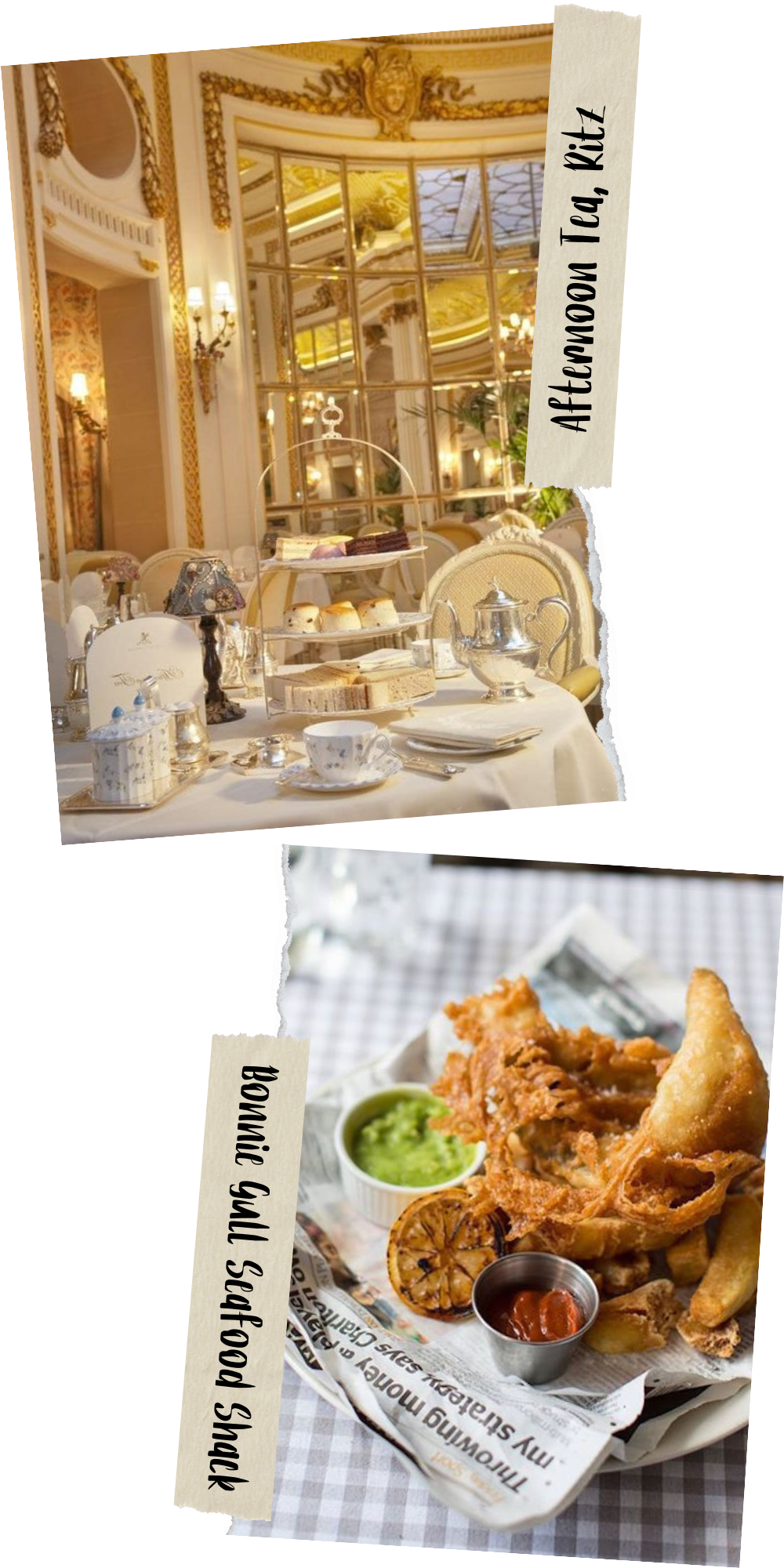 MUST-EAT
High Tea – Tea is at the center of everything in England from morning starts to celebrations and feel-good moments.  That said, nothing beats "high tea".  The British drink almost 40 billion cups of tea every year (100 million cups a day). Enjoy afternoon tea at the famous Ritz Hotel, London for an array of delightful afternoon snacks and a selection of British tea.
Fish'n'Chips – A staple and icon of England, fish and chips have been around since the 1800s and can be found from the fanciest restaurants to pubs and food stalls.  Best eaten with salt & vinegar, many also eat this famous British food with curry sauces, pickled eggs, and peas. If you find yourself in Soho head to Bonnie Gull Seafood Shack for the best fish and chips London has to offer. They also have a branch in Fitzrovia.
Pies – Pies originated as street food during the Victorian era and are still popular. From Shepherd's pie to Cheese & Onion pie and Mince & Pot pies, this traditional dish is considered comfort food and can be found in pubs and many restaurants. When you're in London, head to Bermondsey where you will find M Manze, London's oldest surviving pie and mash shop.
Sunday Roast Dinner – A traditional feast with all of the trimmings, the British roast dinner is your ultimate comfort food for a cozy winter Sunday. Head to the Albion, Islington for an authetic experience. The Albion is always heaving on Sundays (booking in advance is a must). Slow-roasted pork belly, rumps of lamb and 28-day-aged sirloin come with Yorkshire puddings and all the trimmings.
BEST TIME TO VISIT
If you love Christmas as much as I do, you'll want to visit England during the winter months. During December, the country turns into a winter wonderland, and you'll find streets lined with decorations and massive Christmas markets.
For some seriously good deals at some of the top department stores, plan your trip to England in January. After the end-of-year rush, almost all the shops slash their prices and have massive sales to welcome in the New Year.
If you're not a fan of cold weather, June to August is the best time to visit England. The sun finally comes out, London's rooftop bars open up, and open-air theatres are in full swing.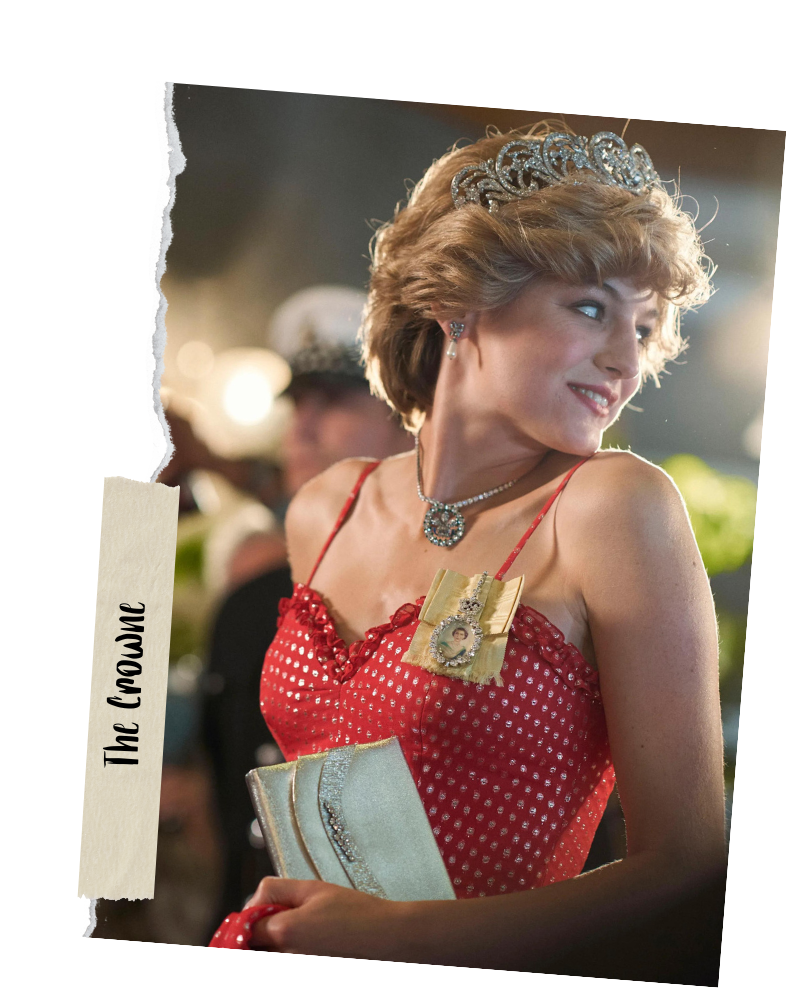 MUST-WATCH
Bridgerton - This period drama is a binge-worthy dose of escapism, set in London.  With great storytelling, stand-out characters, and breakthrough casting, Bridgerton is a cultural phenomenon and most definitely a MUST-watch (Netflix)
Killing Eve – This entertaining, clever British spy thriller with Sandra Oh and Jodie Comer has received several accolades and popular awards. It follows a British intelligence MI6 agent and her obsessive search for a notorious assassin (AMC+, HULU)
The Great British Bake Off – This culinary reality show has topped the ratings in its class and brought much-needed comfort and inspiration to us during the pandemic.  The most recent season, Season 9, brings together a strong group of competitive yet likable baking contestants.
The Crown – This award-winning show takes us through the lives of the Royal Family, delving into the characters like Queen Elizabeth and Princess Diana.  With superb writing and great casting, The Crown is a MUST-watch
Starstruck – This romantic comedy reminds us of the movie, Notting Hill, following what ensues when East London millennial, Jessie, becomes entangled with a movie actor.  Well-acted, well-written, Starstruck is a fun addition to the British television landscape.
WHAT TO EXPECT
Language - The main language spoken in England is English.
Currency - The currency in England is the British Pound. 1 USD is equivalent to about 0.90 GBP.
Credit Cards and ATMs - There are plenty of ATMs around England's big and small cities. Most machines will accept Cirrus, Maestro and Visa cards. Card payments are used everywhere in Britain and are the easiest way to pay for purchases, including the underground & taxis.
Plugs - The plugs in England are type G. The standard voltage is 230 V, and the standard frequency is 50Hz. we recommend buying a universal adapter (make sure it has surge protection) and using a converter for hairdryers and hot tools.
Safety - England is considered one of the safest countries in the world. Pickpocketing and violent crime is low, however, always take percourations when traveling abroad to any unfamiliar place.